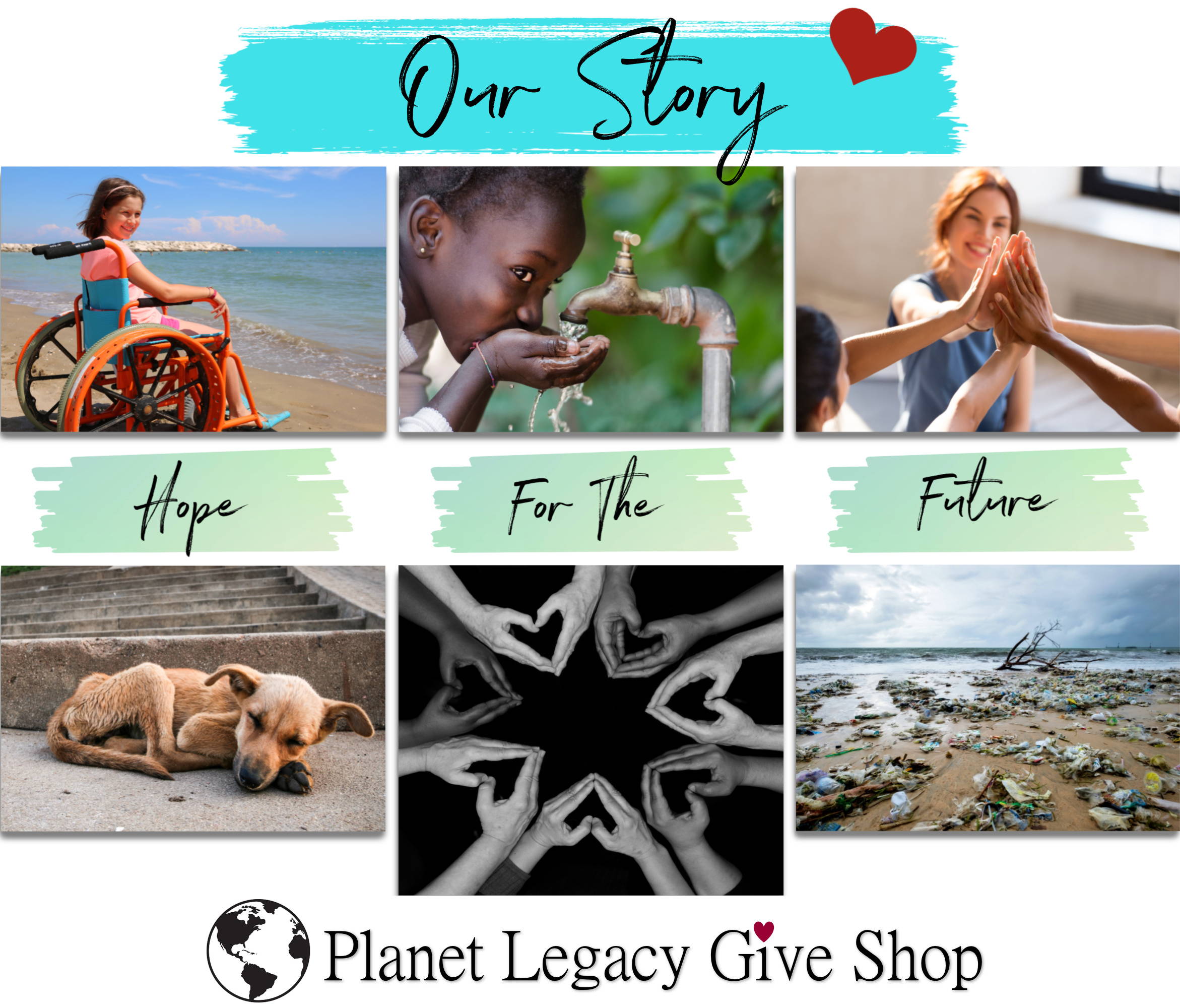 There are charities all over the world working hard to truly make a difference, we want to support, encourage and contribute to these amazing causes. In times when we would all like to do our part, and leave our legacy on the planet, we might ask ourselves where do we start? Alone the task feels daunting and sometimes overwhelming… What can one person afford to do, and how much of a difference can it really make? The answer is simple, every contribution made, small or large, makes a difference. When we join together, many small contributions become large contributions and those large contributions can instill great change in the world!

Planet Legacy Give Shop holds certain causes close to our hearts. We have hand-selected several charities that we feel are creating a healthier planet, and bettering humanity. When you purchase any piece from one of our collections, you will have the opportunity to browse through those charities and handpick one that is close to your heart. We will then donate 10% of the proceeds to that charity, in turn allowing your small purchase to leave your lasting legacy on the planet! Our goal is to bring attention, support, and contributions to these amazing charities.

We can collectively pay it forward, we can indulge with a purpose, and shine a light on the planet one piece of jewelry at a time!

"The solution is we all do something small,
the greatest threat is to do nothing at all"
~Unknown
Below you will find a selection of our hand-picked charities.
If you'd like to read more about these charities feel free to click on the link in their description,
a new browser tab will open up and redirect you to their website.
That way, you can learn more about the amazing strides these organizations are making.

Once you have decide, please continue your shopping!
During the check out process you will be able to pick your charity of choice,
remember, 10% of all proceeds will be donated to these amazing causes!
• Lifewater Canada supplies wells for safe drinking water and sanitation where needed in Haiti and Africa.
• This amazing organization can take $1.00 and turn it into a year's worth of safe drinking water for a child.
• Girls are the water collectors for their families, this task can take countless hours which keeps them away from school, and puts them at greater risk for an assault, during the night water collection.
• By providing clean accessible water, girls are able to attend school, educate themselves, and become a great asset to their community.
• Safe drinking water is a basic human right. Sanitation is a basic human right. Your small donation leaves an impactful legacy.
• Lifewater keeps it's overhead cost to less than 10%, and they are repeatedly awarded one of the "Top 10 Impact Charities"!

Humane Society International Canada
Friends of Humane Society International (Friends of HSI) is a national animal protection charity dedicated to preventing cruelty to animals and ending animal suffering. We achieve our goals through research and education, direct animal rescue, emergency response, animal sheltering, animal care programs, and more.
Friends of HSI is proud to be part of the HSI family of organizations, which together comprise one of the largest and most effective animal protection groups in the world.

HSI works around the globe to promote the human-animal bond, protect street animals, support farm animal welfare, stop wildlife abuse, eliminate painful animal testing, respond to natural disasters and confront cruelty to animals in all of its forms.

Active on nearly every continent, HSI is one of the few international animal protection organizations working to protect all animals.
HSI is deeply committed to extending their reach and to expanding its services and support to local organizations around the world.
With the support of donors and advocates, HSI is endeavoring to create a humane and sustainable world for all animals, including people, through education, advocacy, and the promotion of respect and caring.

The Sunshine Foundation of Canada
In 1987 a London, Ontario Police Officer started a legacy for his son who had passed away from MS.
Sunshine Dream Programs are once-in-a-lifetime experiences for kids and youth that ignite a sense of newfound independence, build confidence, and creates joyful memories that will stay with them for the rest of their lives. By having their dreams come true, kids are inspired to keep dreaming, are willing to try new things, and have a more positive outlook on life.
Your donation is changing lives from coast to coast. By supporting Sunshine Dream Programs, you can help kids see a brighter, more hopeful future.
CANADIAN WOMEN'S FOUNDATION
The Canadian Women's Foundation has a vision for all women in Canada to live free from violence. Women in Canada live at greater risk than men of domestic violence, sexual assault, harassment, and sex trafficking.
Domestic violence, sexual assault, and harassment, are persistent forms of gender based violence that are rooted in gender inequality, which cost Canadiens billions of dollars every year.

The Canadian women's foundation helps women and girls out of violence and poverty and helps them move into confident leadership roles, finding them programs to help them rebuild their lives after the trauma.
This is an amazing legacy to leave your mothers, daughters, sisters, and wives.